Fresh, Healthy Vending Services
Here at A.D. Bos, we know that vending machine food is typically bland and boring. We aim to change your expectations and challenge the status quo with our great-tasting, local food. Every day, our culinary team crafts nutritious and delicious creations in our kitchen on Garden Avenue, so you can enjoy fresh, healthy vending – finally! From our kitchen to your breakroom, it's all part of what we do to "Make the Break!" Explore a few of our signature sandwiches and salads below.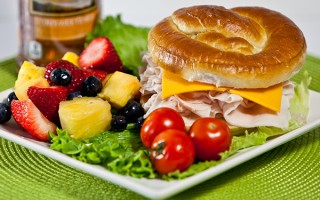 The Turkey Special
A large serving of deli-sliced roast turkey breast, paired with a slice of all natural cheddar cheese on a gourmet pretzel roll.
"Great service, friendly staff and [A.D. Bos] worked with us on our wellness initiatives."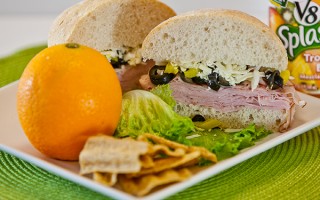 The Italian Classic
Freshly sliced ham covered in black olives, deli-sliced banana pepper rings (don't worry, they're mild), oregano, Italian vinaigrette, and mozzarella cheese, all piled on an artesian ciabatta roll.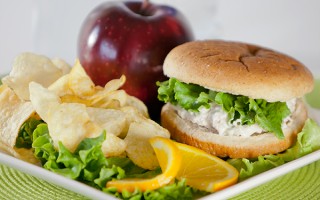 Signature Chicken Salad Sandwich
The perfect, nutritious combination of our signature chicken salad and fresh green-leaf lettuce on a whole wheat roll.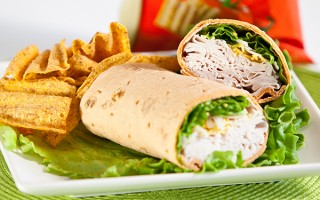 Garden Ave. Tomato Basil Wrap
Freshly sliced ham or turkey, combined with green-leaf lettuce, Bermuda onions and shredded cheddar cheese, all wrapped in a fresh piece of tomato basil flatbread. Served with ranch dressing on the side.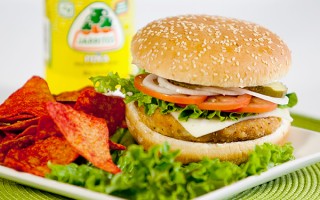 Spicy Chicken Sandwich
This zesty sandwich features a lightly breaded, spiced chicken breast served with freshly sliced tomato, onion, and lettuce on a 5 inch sesame seed roll. All veggies are served on the side for maximum freshness.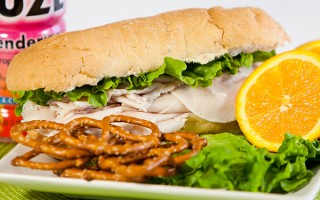 Garden Ave. Signature Sub
Healthy, nutritious and filling, this sandwich features freshly sliced deli meats (turkey or ham) combined with green-leaf lettuce on a multigrain roll.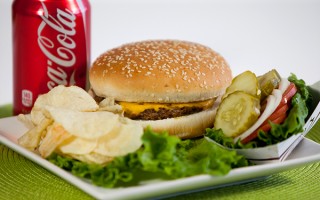 The Bos Burger
The Bos Burger has been around for decades and is a classic combination from our kitchen. This sandwich pairs a charbroiled ¼ lb all-beef patty with fresh tomato, onion, lettuce and thick-cut deli pickles. All veggies are served on the side for maximum freshness.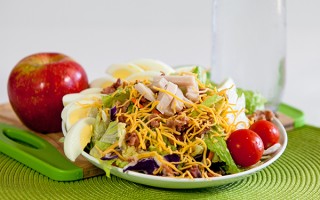 Garden Ave. Chef's Salad
Starting with a fresh mixture of lettuce, carrots, red cabbage and onions, this signature salad combines diced ham, julienne turkey, cherry tomatoes, hard-boiled egg and shredded cheddar cheese with a variety of Pepper Mill dressings.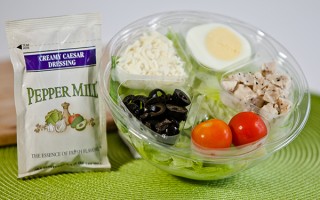 Grilled Chicken Caesar Salad
Our fresh romaine lettuce blend is combined with flavorful grilled chicken, sliced black olives, hard-boiled egg, and shredded Italian cheese. The salad is artfully completed with Pepper Mill creamy Caesar dressing and cherry tomatoes.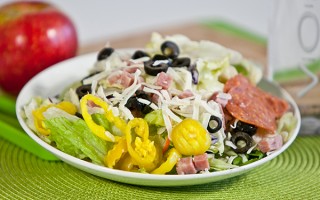 Sicily-Select Italian Salad
Bring a piece of Italy to your breakroom! Fresh lettuce, red cabbage, carrots and onion are combined with diced ham, pepperoni, black olives, and banana pepper rings (mild), mozzarella cheese and Italian dressing.