Single Serving Premium Coffee Systems
These popular, premium, name-brand systems allow employees to enjoy and indulge in a customized coffee experiences every day, without leaving the office. Single cup brewing systems offer a fast and easy coffee solution that rewards your employees and guests while encouraging a more focused and productive work environment. Explore the dynamic range of brewing systems we offer below.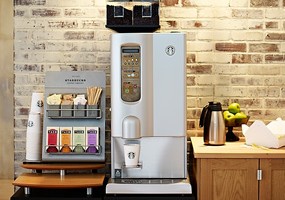 Starbucks Interactive Cup Brewer
The complete bean-to-cup coffeehouse experience – including the Starbucks aroma, flavor, and quality you love – is now available for your breakroom. The Starbucks Interactive Cup brewing systems offers a variety of coffee options that are custom brewed to each individual's specifications in less than a minute.
Features:
– From bean to freshly brewed Starbucks coffee in less than a minute
– Simple and easy selection of coffee, hot chocolate, or hot water
– Filtered water line for the best tasting coffee
– Brew by the cup or carafe
– Stylish design with integrated storage area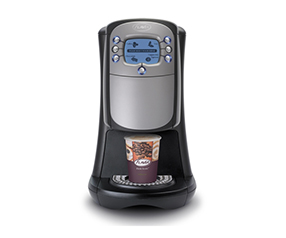 Flavia Creation 400
The Flavia Creation 400 brewing system allows for the utmost level of customization for your employees. This single-cup brewer not only crafts gourmet coffees and teas, it also brews specialty drinks, including cappuccinos and lattes. Your employee's will be rewarded every day with the unique flavors and the numerous flavors, toppings, and drinks they can enjoy in the breakroom.
Features:
– Choose from dozens of coffee flavors, specialty blends, and toppings
– Brews coffee, tea, cappuccinos, lattes and other specialty drinks
– Uses 40% less energy than other brewing systems and offers an energy-saving mode
– Simple, compact and stylish design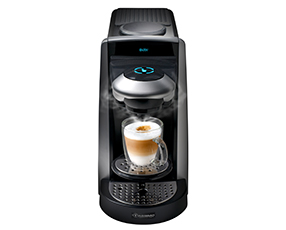 Tassimo Pro
You may not have heard of Tassimo before, but you'll be hearing a lot more about it soon. The Tassimo brand is prestigiously regarded around the world and can now be found in your breakroom. The Tassimo Pro brewer is the smartest brewing system we offer, with the ability to create up to 8 different beverages, from cappuccino to espresso. A distinct barcode on each coffee capsule calibrates the machine upon each use so every individual beverage is optimally made.
Features:
– Smart brewing system can make 8 distinct types of beverages
– Unique, simple to use beverage capsules
– Robust library the leading global coffee, espresso, latte, and cappuccino brands and flavors
– Incorporates real frothed milk
– Automatic cleaning system